C4A Exclusive Contractor Lead Services
If you're a contractor, then you know how important it is to get high quality leads. Without quality leads, you won't be able to generate new sales. That's why we're excited to offer our exclusive lead generation services for contractors. We've designed our system specifically for contractors, so you can be sure that you're getting qualified, exclusive leads.
Contractor Lead Generation Done Right
Contractors are always looking for the best lead generation companies to help them get more leads and grow their businesses. The problem is that there are so many lead generation companies out there that it can be hard to know which ones are the best. So we've done the research for you and compiled a list of the best lead generation companies for contractors. We've evaluated each company based on its ability to generate leads, its transparency, and its price point, we've designed our model lead generation for contractors. A unique approach based on accountability means our clients get results-oriented assistance from hungry professionals who have found success by meeting local demand first hand – all at an affordable price point too.
We're specialized in contractor leads, home improvement leads. Our model built on trust, transparency, and accountability from all parties ensures that you're getting the highest quality leads available. We're committed to providing you the best exclusive contracting leads around with a model of trustworthiness that is transparency in action! We're one of the best lead generation companies. We're proud to offer the best contracting lead generation services around! When you work with us, you can be confident that you're working with one of the best lead generation companies around.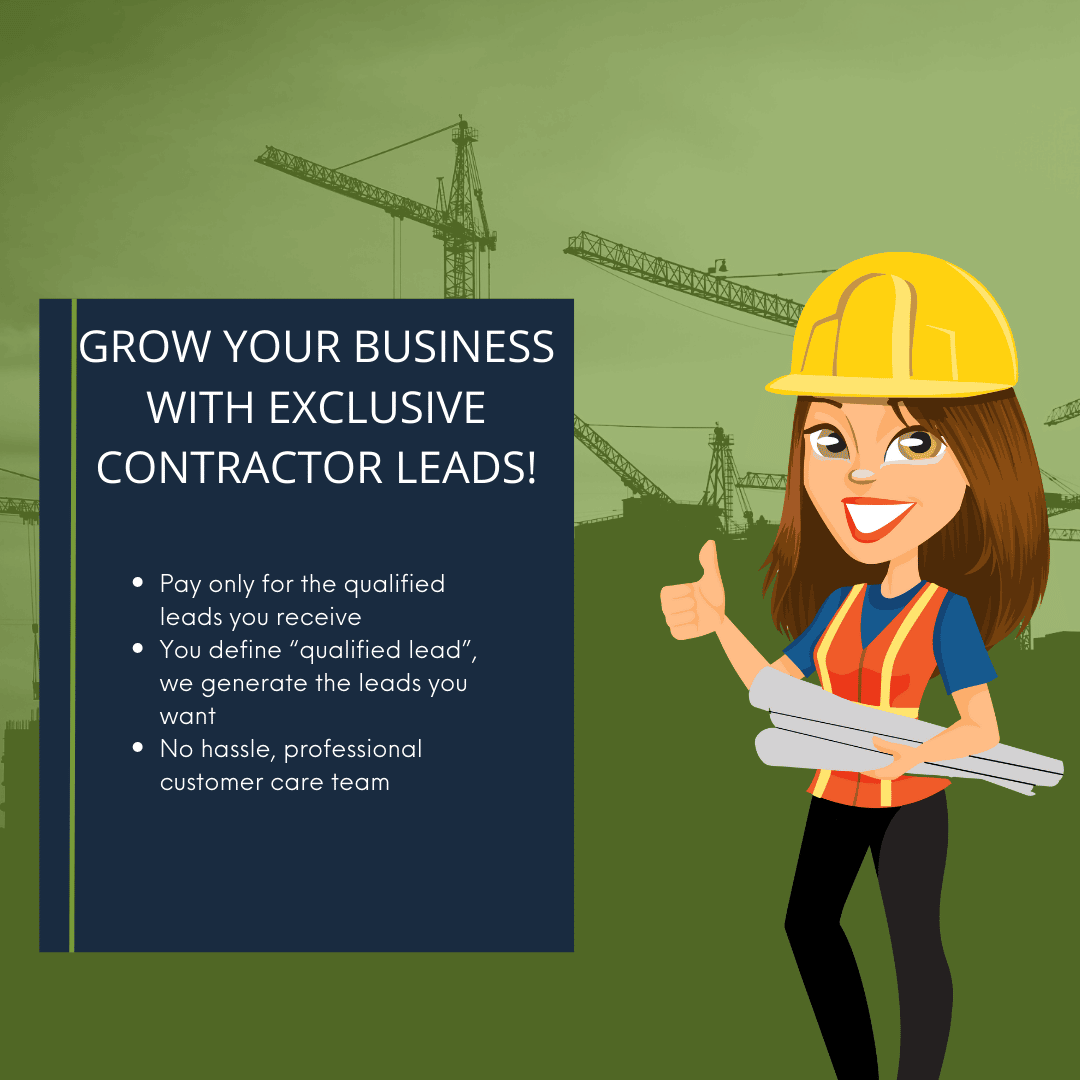 How we generate exclusive leads for contractors
C4A's team of experienced marketing professionals focuses on delivering high impact, cost-effective strategies that help you build a steady stream for your business. We specialize in generating contractor leads through our exclusive lead generation system which is designed to attract quality individuals looking towards becoming customers—we have the perfect solution tailored just right!
At C4A, we understand that generating leads is essential for any business. That's why we offer a comprehensive suite of online marketing services that are designed to help you reach your target audience and generate sales. Our services include contractor website design, content marketing, search engine optimization, pay-per-click advertising, and social media marketing. We also offer a wide range of lead generation services that are tailored to the specific needs of our clients. Whether you're looking for contractor leads for your roofing business or you need a steady stream of leads for your plumbing business, C4A can help. With our experience and expertise, we can develop a customized marketing solution that will help you achieve your goals. Contact us today to learn more about our services and how we can help you grow your business.
Our Exclusive Contractor Lead Generation Process
01. Strategy
The C4A Lead Generation team will work with you to better understand your company and its products or services. We'll study what makes it unique, how we can help strengthen that connection for success in sales efforts – because there is no other way than our own!
When you're ready to grow your business, we have the perfect approach for reaching out and getting leads. Our team will study what makes potential customers tick so that they can offer a service or product tailored just right!
02. Target
We work with decision makers within the company to identify areas where you are struggling and then position your product or service as the best possible solution. By taking the time to understand the company's needs, we are able to provide a tailored solution that will address your business specific pin points. This approach has proven to be successful in helping our clients to achieve their desired results. We are confident that we can help you to achieve similar success with your company.
03. Engage
At C4A, we understand the importance of generating high-quality leads for your sales team. That's why we offer a comprehensive lead generation service that includes engaging prospects in meaningful conversations and setting appointments with qualified prospects. Our team of experts are skilled at asking probing questions to get the most out of every conversation, and they can also arrange live transfers directly to your sales reps. This usually increases conversion rates.
04. Schedule
The C4A Lead Generation department is responsible for sending calendar invites, confirming and rescheduling appointments as and when required. We will work closely with you to ensure that all appointments are confirmed and rescheduled in a timely manner. We understand the importance of timely communication and will do everything in our power to make sure that your appointments are confirmed and rescheduled as smoothly as possible.
05. Report
As the captain of your business, you are responsible for its overall success or failure. In order to achieve success, it is essential to have access to accurate and up-to-date information about all aspects of your operation. This is where we come in. At [Company Name], we pride ourselves on providing our clients with cutting-edge reporting tools that offer detailed insights into every conversation, customer preference, complaint, and any recurring issues. With this information at your disposal, you will be able to make informed decisions that will help steer your business in the right direction.
Our contractor leads service that connects you with hiring homeowners directly
Our contractor lead services team is dedicated to connecting you with high-quality leads. We know that your time is valuable, so we screen each lead carefully to make sure that they are a good match for your business. Once we've verified that a lead is qualified, we'll put you in touch with them right away. Whether you prefer to communicate over the phone, through text, email or instant messaging, our team will make sure that you're able to connect with your potential client quickly and easily. We're committed to providing an exceptional experience for both you and your clients, and our contractor lead services are an important part of that commitment.
Give us a call at
321-594-4277
Our offices are open from 8:00am – 7:00pm CT, M-F.
Exclusive Appointments not shared.
Phone Verified Customers only.
Sample Home Improvement Appointment
Lead Contact Information
| | |
| --- | --- |
| Customer Name: | Jerlene Stevenson |
| Home Address: | 2099 23rd St South Arlington VA 22206 |
| Home Phone Number: | 703-899-0788 |
| Cell Phone Number: | 703-890-0999 |
| Email: | Jerlene.stevenson@msn.com |
| Appointment Time & date: | 10/02/2021 at 10am |
| Required Service: | Replacement Bay Windows (2) |
| Both of the Owner will be present: | Yes |
Connect with more homeowners
Grow your business
Without a well-organized system, keeping track of leads gets messy, and measuring results is near impossible. If you are not able to respond to a lead quickly, impatient potentials will just move on to the next business. Did you know that your chances of closing a new deal increase by over 400% when you respond to the customer within the first five minutes of reaching out to you? We understand that you're busy. That's why we offer complete lead management services including appointment setting, lead nurturing, and database reactivation. All you have to do is close the sale. We'll take care of the rest.
Over 3,000 homeowners visit Modernize each day to connect with residential contractors like you!
Look no further than our contractor lead services. Our leads are generated through our comprehensive marketing efforts and are never resold. As a result, you can be confident that you're getting fresh, high-quality leads that convert. In addition, our contractor lead services come with a number of features that make it easy to manage your leads and grow your business. For example, our lead management system makes it easy to track your leads, set follow-up reminders, and measure your success over time. And our team of expert account managers are always on hand to answer any questions you may have. If you're ready to take your business to the next level, contact us today to learn more about our contractor lead services. Thanks for choosing Contractor Leads!
Scale your business by partnering with the top residential home improvement lead generator in the U.S.
Industry we serve Link 
When you work with our lead generation company, you can expect to see an increase in the number of leads coming into your business. We use a variety of methods to generate leads, and we carefully vet each one to ensure that they are high quality and likely to convert. As a result, you'll be able to focus your time and energy on closing deals, rather than chasing down dead ends. In addition, our lead generation services are exclusive to contractors in your area. This means that you won't have to compete with other businesses for the same leads. See our Lead category according to your needs. 
     ↓
Get hot, ready-to-buy leads for home pros!
C4A provides the best possible service, we like to find out how we can best help your company grow with quality leads. By requesting to receive leads, you are agreeing to be contacted by phone and/or email by Peak Marketing Service.
For:
Roofers
Windows
HVAC
Siding
Solar
Electricians
Plumbers
Concrete
And more…
What makes our contractor leads unique
We know that generating leads is only the first step in growing your business. That's why we offer a comprehensive lead generation service that not only provides you with high-quality leads, but also helps you to convert those leads into paying customers. We work closely with you to understand your business goals and we develop targeted campaigns that are designed to attract the right kind of leads. And we don't just stop there – we also provide support and advice on how to close the deal and turn those leads into long-term customers. If you're looking for a lead generation service that will help you to take your business to the next level, then contact us today.

How we're different from other typical contractor leads company
At C4A Lead Generation, we understand that your company's success depends on generating quality leads. That's why we offer a comprehensive lead generation service that goes the extra mile to turn leads into paying customers. We don't just charge you per lead – we're committed to your company's growth, and we'll do whatever it takes to help you succeed. We have a proven track record of helping our clients generate quality leads, and we're confident that we can do the same for you. So if you're looking for a lead generation service that will get results, look no further than C4A Lead Generation. Contact us today to learn more about what we can do for you.
of service as a marketing consultant
Clients based in the United States
WE CARE ABOUT YOU
Lead Generation For Contractors Dedicated To YOU
Most contractor lead generation companies take a one-size-fits-all approach to their clients. They generate leads and then sell them to the highest bidder, regardless of whether or not that company is a good fit for the lead. This can result in wasted time and money for both the contractor and the customer. C4A takes a different approach. We work with one company in each service area, so we can tailor our lead generation strategy to that company's specific needs. This means that our leads are more likely to convert, saving you time and money. We're also dedicated to your success. We don't grow unless you grow, so we have a vested interest in making sure that your business thrives. If you're looking for a dedicated partner who will help you grow your business, look no further than C4A.
Get started now→
Take a look at our most successful growth contractor reviews
Excellent work. C4A assisted me with cold calling a large database. They were very open with communication and continually provided me updates with how they are progressing with this project. They were very receptive to communication and feedback. I recommend them highly for any cold calling/sales campaign.
These guys were absolutely great! I was a little concerned at the beginning but I tend to be a control freak. They know their stuff and got a really good handle on the offer, before they started calling. Out of 100 calls we got 30 good leads! They were "machines"... very professional and efficient sales people, they got down to it first thing in the morning and didn't stop. AND even better was that I got to see everything LIVE. They have a great system because you can see your GOOD leads coming through. WOW! They went over the top in effort. I'm so happy. I'll order a 5000 call package next time. Do yourself a favor and order their gig - you won't be disappointed.
I was overly satisfied with the results, There spreadsheet was very informative and the delivery was great, I will definitely be working with them again.. and would highly recommend there services.
I needed help getting calls done for my business. I'm an experienced cold caller, but like the guys say in their description. "Sometimes you just don't fell like doing it". Well, I didn't...so I decided to find some assistance. The guys were great! They followed my script, and knocked out the 100 calls in no time. I got all the calls recorded, so now I can go back and improve my script. We also got several people who were interested in working with us! So wins all around. C4A is GREAT! I highly recommend anyone using them, if you can... I'll probably have them too busy working with me!!
Answers to Your Questions
What's the Difference Between C4A and Other Lead Referral Companies?
Unlike other lead generation company, at C4A, you are not just getting leads, you are getting solid appointments. Conventionally, every 1 in every 3 appointment is a sale.
How Does Your System Work?
During the signup process, you will select the types of leads, filters, and geographic areas you are interested in. After confirming your configuration with an account manager and completing our best-practices focused onboarding call, you are now ready to start receiving real-time leads delivered to your online account and email address. If you ever need to make an adjustment to your account settings, you will have an account manager who you will have direct access to and who can help you with all of your concerns.
Once you register with C4A, you will select the zip codes in which you want the appointments to be generated, and after confirming the availability of your schedule, we will start generating appointments.
How are the Appointments generated?
At C4A, we believe the best way to keep our customers keep coming back is to provide them with quality home improvement leads/ appointments. A big part of our home improvement leads are generated through Google, YouTube, Facebook, and other search engines. These leads are then reached out to by our in-house chasers, who confirm appointments with them on behalf of your company. A strict Quality Assurance team then makes sure only the best appointments are submitted, therefore ensuring you always have a high conversion ratio.
Do I Have to Pay Up Front for My Appointments?
Appointments are billed via VISA, Mastercard, AMEX each week (Friday early AM) for the Appointments received that week.
What Happens if I Get an Invalid Lead?
For invalid Appointments, replacements are provided within 2-3 business days.
Each Appointment returned for credit will be independently verified to ensure it meets the return criteria.
Do I Have to Sign a Contract?
When you sign up, we ask for a 90 day commitment as we design marketing tailored for your company's success. If at any time after the 90 days you decide that you want to cancel, just email C4A and you will not receive another appointment.
How Many Appointments Can You Provide Me Each Month?
We can provide you with as many appointments as you can handle. However, if you plan on purchasing in bulk, that is upwards of 10 appointments per day, we would a week's notice to accommodate.
Can I Limit the Number of Leads I Receive Per Week?
Yes, you will determine the number of Appointments you receive on a weekly basis. The minimum number of leads you can sign up for in a week is 10.
How Much Do Your Home Improvement Leads Cost?
Our home improvement leads/ Appointments vary in price depending on the type of lead and any filters you may optionally choose.
Regulatory Summary regarding The Telephone Consumer Protection Act (TCPA)
The federal Telephone Consumer Protection Act (TCPA), related FCC regulations, and related court
interpretations protect consumers from specific types of telemarketing. Under the TCPA "telemarketing" is defined as "the initiation of a telephone call or message for the purpose of encouraging the purchase or rental of, or investment in, property, goods, or services, which is transmitted to any person." 47 C.F.R. § 64.1200(f)(12). The TCPA restricts cold calls, prerecorded sales calls, and the use of auto dialers. The TCPA also authorized the creation of the National Do Not Call Registry, which is discussed more fully below.
The TCPA mandates that telemarketers:
Maintain a Do not Call Policy;
Provide a copy of the Policy to requesting consumers;
Only make calls between 8 a.m. and 9 p.m. (local time of the person being called);
Only make calls and texts to numbers not on the National Do Not Call List (DNC);
Only make calls and texts to numbers not on the business' internal do not call list;
When calling cell phones, restrict the use of automatic telephone dialer systems (ATDS) to consumers
that have given prior express consent to receive such calls;
Restrict the use of artificial or prerecorded voice recordings to consumers that have given prior express consent to receive such calls;
Identify the caller name and location, and company name.
In addition, the TCPA prohibits using a fax machine, computer, or other device to send any unsolicited
advertisement to a fax machine unless the sender has an established business relationship with the
recipient, the recipient voluntarily made the fax number available, and the unsolicited advertisement contains a compliant opt-out provision.
General statement of policy
All employees, vendors and any persons or entities acting on behalf of the C4A shall only make
telemarketing
calls strictly adhering to appropriate procedures relating to the TCPA and applicable state laws
Agents conducting telemarketing in reference to a product or marketing initiative of C4A or any of its clients, subsidiaries or affiliate shall fully adhere to the TCPA, any related federal laws, regulations and any C4A affiliate, subsidiary or clients' rules, and all applicable state laws ("Telemarketing Laws").
There are strict penalties for noncompliance with Telemarketing Laws. Violators may be subject to legal
penalties, and, as applicable, may result in contract termination, employment termination or other disciplinary measures by C4A.
To learn more about the TCPA you can visit the website listed below.
FCC web page: http://www.fcc.gov/cgb/consumerfacts/tcpa.html
What is the National Do Not Call Registry?
In 2003, a National Do Not Call Registry was established through the efforts of the Federal Trade
Commission (FTC) and the Federal Communication (FCC). The registry is a list of telephone numbers
(residential and cell) from consumers who do not want to receive telephone solicitation calls to the registered telephone number. A telephone number registered on the National Do Not Call Registry must not be called for telemarketing purposes unless the caller has an existing business relationship with the individual being called or the individual being called has given the caller express consent to be called.
This policy applies to all C4A associates and its third-party contractors, including clients, sales representatives, telemarketing agents to the extent that they provide services on behalf of the Company.
C4A Do Not Call Policy
C4A is committed to complying with applicable Do Not Call laws and shall maintain an internal Do Not
Call list ("Internal DNC List") which will be readily available for viewing. If any person
under the scope of these policies and procedures receives a notification, whether oral or written, from a
client or prospective client, that they wish to be placed on the c4A's Internal DNC List, such person shall
notify the Admin Office immediately upon receiving the request. The Admin Office shall be
responsible for updating and maintaining the Internal DNC List. The Internal DNC List shall be updated no later than 1 day after the receipt of a new number.
Telephone solicitations shall not be placed to any telephone number that is maintained on the Internal
DNC List.
Telephone solicitations shall not be placed to any telephone number that is maintained on any applicable State Do Not Call Registry unless the entity or individual making the call complies with the relevant requirements of that state in regard to such call.
Telephone solicitations shall not be placed to any telephone number that is maintained on the National Do Not Call Registry unless:
.
Telephone solicitations may not be placed before 8:00 a.m. or after 7:00 p.m. in the local time of the
subject of the telephone solicitation without prior express permission.
Upon making a telephone solicitation, the caller must provide the recipient of the call the following
information:
– Caller's name;
– Name and address or telephone number of the Company, or the representative to which the caller is
affiliated.
– A statement that informs the subject that the purpose of the call is to solicit the purchase of products
and services.
Individuals who violate these policies and procedures must be reported to the Admin Office promptly.
Any complaint regarding the violations of these policies and procedures should be referred to the Admin Office for coordination and handling.
We respect the privacy of all our customers, and we strive to provide the best possible customer service.
If you feel that you have been contacted in violation of this policy or applicable Federal or State law, then please contact us immediately.